Isle of Man boat helps fight illegal fishing in Sierra Leone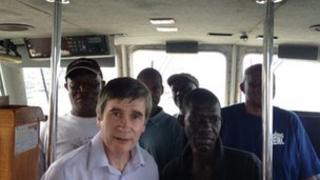 A patrol vessel donated by the Isle of Man treasury has helped bring an end to illegal fishing in one of the world's poorest countries.
Sierra Leone faced a huge problem with unauthorised trawlers catching fish.
The former Manx customs and excise vessel was handed over to the Sierra Leone government last October.
According to the Isle of Man government, the move has already led to about eight arrests and $400,000 worth of fines being imposed.
The boat, named 'Isle of Man', is now the fastest in the country's waters.
Environment minister Phil Gawne said: "Since the boat was gifted 80% of the illegal fishing that was causing most of the devastation for the smaller fishing communities has now stopped.
"Formerly they had the equivalent of a small rowing boats with out-board motors as their fisheries enforcement, so even a mile or two out they would really struggle."
The vessel allows patrols to stop and inspect any fishing boat in their national waters and fines of up to $1m can be imposed for trawlers in breach of the law.
Victor Kargbo, Minister of Fisheries and Marine Resources in Sierra Leone, said: "Initially we didn't have the assets to come out here this far. Without the boat, the illegal operators would come back.
"It has proved a powerful tool in catching illegal trawlers in Sierra Leone's territorial waters."