Isle of Man farming snow toll reaches £1m mark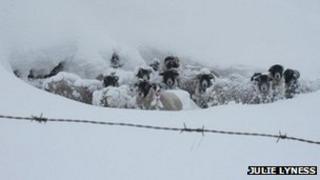 The impact of extreme weather in March will cost the Isle of Man's farming community at least £1m, according to the agriculture minister.
Phil Gawne said, farmers are still "counting the cost of the disaster" but so far about 3,200 carcasses have been recovered- 3,000 sheep and 200 cattle.
It is thought the death toll could rise to about 8,000 over the coming weeks.
Mr Gawne added: "To replace those animals will cost in the region of £1m - but the story doesn't end there."
The agriculture department estimates that, collectively, Manx farmers will be looking at an income loss of about £750,000 over the next year.
According to the Isle of Man meteorological office, last month's snowfall was the heaviest since 1963 - the worst hit areas were on the west coast.
'Emerging devastation'
About 90% of the Isle of Man is given over to agricultural production with about 450 farms, some with only a few livestock but some with hundreds.
Mr Gawne said the government will step and with financial assistance when the full picture of the "devastation has emerged".
"The first thing we are going to do is waive the fee for disposing of dead animals and then we need to wait a few weeks until we get a full picture about the disaster which has struck us," he continued.
It is estimated about 10% of all the sheep on the island died as a result of being buried in the snow, although some farmers may have lost in the region of 70% of their stock.