Isle of Man farmers face 'uncertain' future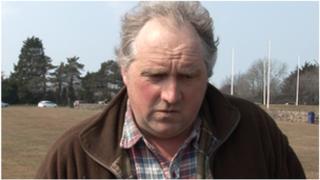 Some Isle of Man farmers are facing an uncertain future after losing thousands of sheep and cattle during heavy snow.
The recent extreme weather, according to the Manx Met Office, was the worst the island has seen for 50 years.
Danny Creer, who runs a large sheep farm at Ballaglonney in Crosby said: "I may have lost about 50% of my stock so really I don't know if the farm is still financially viable."
The government estimates the severe weather will cost in the region of £1m.
Mr Creer added: "The future is uncertain. I have been a farmer for 36 years and this is the worst time I have ever known.
"We won't know exactly where we are until well after the lambing season, by July, when the sheep are being sheared, that's when we will be able to do a full head count."
About 90% of the Isle of Man is given over to agricultural production with about 450 farms, some with only a few livestock but some with hundreds.
'Ongoing crisis'
To date, more than 3,000 carcasses have been recovered but it is thought that number could rise to about 8,000 over the coming weeks.
In addition it is thought that collectively, Manx farmers will be looking at an income loss of about £750,000 over the next year.
President of the Manx Farmer's Union Ray Craine said the crisis is ongoing.
"There are still animals being found every day so we haven't got any final figures but we do know that some farmers have been severely affected.
"It could take years to recover from this and we are currently battling with trying to keep the remaining stock alive - the grass is in a bad condition because of the freezing ground temperatures."
The Isle of Man government has waived the normal fee for carcass disposal and is currently working alongside the farming union to assess how to continue its support into the future.