Cancer information bus tours Isle of Man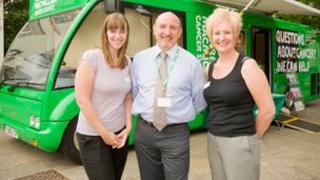 An information bus is on a tour of the Isle of Man to provide confidential and free advice to those affected by cancer.
The Macmillan Cancer Information Bus will be on the island, at various venues between 22 and 25 April.
It will be in Port Erin on 22 April, Ramsey on 23 April and Castle Street in Douglas on 24 April.
It is a joint venture by the Macmillan Cancer Information Centre at Noble's Hospital and Macmillan Cancer Support.