Prototype RNLI lifeboat 'light years ahead'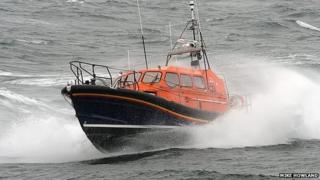 A prototype lifeboat which visited the Isle of Man this weekend is "light years ahead of the island's current lifeboats", an RNLI mechanic has said.
The Shannon class vessel is the first RNLI all-weather lifeboat to be powered by water jets instead of propellers.
Douglas RNLI station mechanic Tony Radcliffe said: "It is very fast and very manoeuvrable. It would definitely help when reaching casualties."
The lifeboat visited Douglas, Ramsey and Peel stations.
'Absolutely amazing'
During an Irish Sea trial the prototype is stopping at a number of lifeboat stations, which currently have Mersey class lifeboats, so crews can familiarise themselves with the vessel.
RNLI volunteer Mike Howland said: "It was absolutely amazing and none of the crew had a bad word to say about it. It is real 21st Century technology."
It is expected three Shannon class lifeboats will be introduced in the Isle of Man between 2016 and 2018.
RNLI spokeswoman Theresa Shammon said: "The Shannon prototype has withstood the toughest sea conditions during her sea trials and the conditions around the island at the weekend gave her a real test.
"It was a great opportunity for our crews to get a first-hand look."
The lifeboat will now continue to Ireland.
An RNLI spokesman said the first two lifeboats, which cost the charity about £1.5m each, should be operational within the year.
The Shannon will be the first class of lifeboat to be built in house at the new all-weather lifeboat centre at RNLI headquarters in Poole, Dorset.
Dungeness Lifeboat Station in Kent will be the first to receive the lifeboat in late November, with Douglas getting the island's first in 2016, followed by Ramsey in 2017 and Peel in 2018.