Isle of Man livestock burial rules relaxed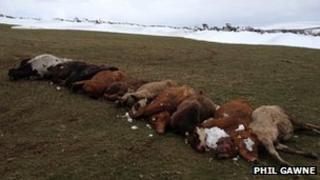 Laws preventing the burial of livestock on private land have been temporarily relaxed as farmers deal with thousands of casualties from the heavy snow.
The government said suspension of the rules will operate for a limited period between 15 and 28 April.
Between these dates farmers can apply for permission to bury livestock as an alternative to arranging for official collection and disposal.
A spokesman said permission will be granted "in exceptional circumstances".
He added that applications will be considered "on a case by case basis and only where collection would pose a risk to the health and safety of the personnel carrying out the collection".
'Pollution risk'
Heavy snow in March caused thousands of sheep and cattle to die after they became buried in snow drifts, some of which reached about 20ft in parts of the Isle of Man.
Despite a rescue effort involving much of the island's community, some of the worst hit farms are predicting losses of up to 50%.
The government announced that financial assistance will be made available for some farmers, and in the meantime, the fee for animal disposal has been waivered.
Normally dead livestock is collected by the government's Fallen Stock Service.
Farmers planning to apply to bury their own livestock are advised by the government that, in each case, "the department of agriculture will consider the risk of pollution and/ or the viability of removing the animals."
More information is available from the government's Fallen Stock Service.