Isle of Man three-legged world record attempt planned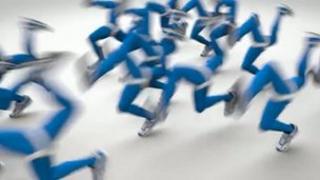 More than 1,000 people in the Isle of Man will attempt to set a new world record for the largest three-legged race next month.
The current record of 1,004 (502 pairs) was set by a Japanese High School in November 2011.
Organiser Simon Scott said: "There is only one group of people who should hold the record for this race - the people of the Isle of Man."
The 'Three Legs of Man' is the Isle of Man's national symbol.
The record attempt which will be held on 6 May will see pairs completing a 200m race along Douglas promenade.
The Isle of Man previously held the record in 2009 when 468 pairs finished a race.
Mr Scott added: "We need to bring the record home again - it's time to re-claim our pride!"
All of the money raised will be given to the Isle of Man Children's Centre.
A variety of other entertainment is also planned for the day.
Anyone wishing to take part can register online.