Bee Gees singer Robin Gibb's career celebrated with stamps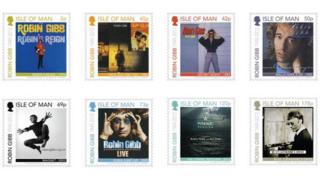 The life of the late Bee Gees singer Robin Gibb is to be celebrated by a set of stamps, issued by Isle of Man Post.
The eight stamp set will be launched on 24 April to coincide with the posthumous release of his album '50 St Catherine's Drive' later this year.
The album, recorded in 2008 and 2009, is named after his childhood Isle of Man home.
The Gibb brothers were born on the island but later moved to Manchester before emigrating to Australia in 1958.
'Answer proudly'
A Post Office spokeswoman said the stamps celebrate the "wonderfully colourful and fascinating life" of the singer and songwriter.
She added: "Throughout their career, nobody could figure out where the Bee Gees were from. Some fans were certain they were Australian. Others would say England. When asked, Robin would answer proudly that he was from the Isle of Man."
According to Isle of Man Post the stamps chart the "landmarks in an illustrious musical career and showcase a man with academic and charitable interests beyond the music industry".
Over a period of 40 years, Robin - alongside twin brother Maurice and older brother Barry - notched up more than 200 million album sales worldwide, as the BeeGees.
Despite the band's success Robin Gibb continued to pursue a solo career and also wrote songs for other artists.
After a career in music spanning six decades his final performance on stage in 2012 was in support of injured British servicemen and women. He also supported several charities in the Isle of Man.
He died in May, aged 62, after a prolonged struggle with cancer. Barry is the last surviving Gibb brother following the death of Maurice in 2003 and younger brother Andy in 1988.