Isle of Man band raises thousands to help farmers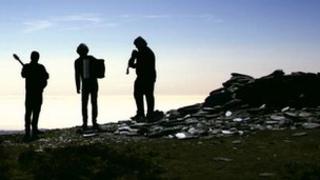 A folk band from the Isle of Man has raised more than £6,000 to help farmers faced with the loss of thousands of livestock after heavy snow in March.
The appeal followed one of the worst tragedies ever to hit the island's farming industry when 9,000 animals were killed- 10% of all Manx livestock.
Band members from Barrule, invited fans to donate, in exchange for downloading a song called Sheep Under the Snow.
All funds were given to the Isle of Man Agricultural Benevolent Trust (IOMABT).
The IOMABT is a registered charity established in 1995 with the aim of helping "genuine cases of hardship in the agricultural and associated sector".
The extreme weather in March caused thousands of sheep and cattle to die after they became buried in snow drifts, some of which reached about 20ft (6m) in parts of the Isle of Man.
Despite a rescue effort involving much of the island's community, some of the worst hit farms are predicting losses of up to 50%.
Chairman of the IOMABT, Graham Crowe said: "It has been a really tough time for farmers and every penny is very gratefully received, what the guys have done is really great- it will help a lot of people.
"We are planning to distribute the money throughout the year as problems evolve- as well as lost livestock, farmers are going to need help with damaged fencing and the like."
The song recorded by Barrule is a reworking of a traditional 18th century Manx ballad 'Ny Kirree of Niaghtey' (The Sheep Under the Snow).
The band is made up of Jamie Smith (accordion), Adam Rhodes (bouzouki) and Tomas Callister (fiddle).
More information is available from the Barrule website.