One of the main roads into the island's capital reopens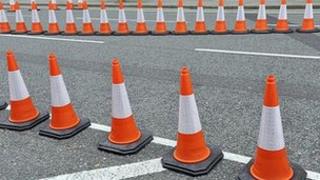 One of the main roads into the Isle of Man's capital will reopen later.
Pulrose Road in Douglas will be operational at 16:30 BST following improvement works as part of a major £4m scheme.
Work to strengthen Pulrose Bridge and reconstruct Peel Road will continue under a traffic light system.
Heavy vehicle drivers are asked to continue to access Pulrose Road businesses via Groves Road.
A 17.5 tonne weight restriction on Pulrose Road Railway Bridge will remain.
Two way traffic will continue to run on Peel Road.
The major road improvement scheme, approved by Tynwald in February, is expected take about 80 weeks.
It is the biggest road improvement scheme on the Isle of Man since Richmond Hill in 2010.
Director of highways Richard Pearson said: "All businesses on Peel Road and Pulrose Road remain open and will be fully accessible throughout the works".
When the scheme was approved Mr Pearson said the work was "essential" as the area was "one of the worst on the Isle of Man in terms of drive quality".
The scheme will see the total reconstruction of the carriageway and footpaths in the area as well as work to strengthen and widen Pulrose bridge.