Isle of Man food banks to find the 'hidden hungry'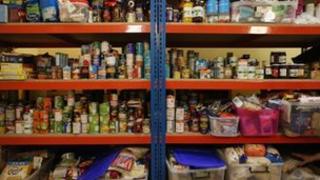 Plans are being formulated to establish a system of food banks across the Isle of Man, with the aim of helping the island's "hidden hungry".
It is hoped the scheme could help those who would normally find it difficult ask for help.
The system, which is well-established in the UK, provides food parcels for those struggling to make ends meet.
Sue Johnson, from the committee involved, said: "We need to find those who suffer in silence."
She added: "We know they are out there but they are often the ones who are the most difficult to reach. These are the people who would never go looking for help and they are the people we would really like to make contact with.
"I think we will be surprised at not only the amount of people who come forward, but with the type of people who come forward. These are difficult economic times and we want to put in a system which acts as a sort of safety net."
The system being discussed would provide non-perishable food, according to need, and provisions would include items such as nappies, if necessary.
The centres would distribute the food and also welcome people in for a chat.
"We would like to create a hub for the community," continued Mrs Johnson.
"Somewhere people feel comfortable- it's not just about food parcels."
The steering committee looking into providing food parcels involves representatives from many groups such as the Salvation Army and the island's homeless charity, Kemmyrk.