Summerland site developer in talks with Manx government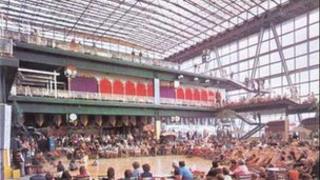 Discussions between the Isle of Man government and an off-island developer are under way over the vacant Summerland site in Douglas.
Infrastructure minister David Cretney said the "preferred developer has a proven track record" and he hopes a "successful outcome" can be achieved.
In 1973, 50 people were killed in a fire at the site just two years after the high-tech promenade venue opened.
No details of the planned development have been announced.
A number of schemes were considered for the location at the end of Douglas promenade which has been vacant since 2006.
A government committee examined all suggestions to see which would offer the most social and economic benefits to the island.
According to Mr Cretney only one interested party from the Isle of Man was shortlisted.
In 2010 plans for a £30m facility with a multiplex cinema, restaurant and bars, were dropped after the government said it had been unable to agree the terms of the lease with the planned developer.