Douglas Bay chosen for national beach-clean campaign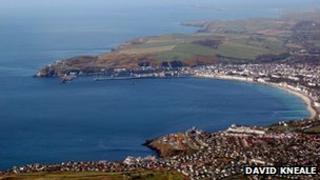 Douglas Bay on the Isle of Man is one of 50 venues across the British Isles to take part later in a nationwide beach-cleaning campaign.
Thousands of people are expected to take part in events organised by the Marine Conservation Society (MCS) and Marks and Spencer.
The event will begin at 12:00 BST with people asked to meet by the War memorial on Douglas promenade.
Last year, more than 100 people took part in the event.
A spokesman said: "Last year, we had some really unusual items including a sofa and a set of false teeth.
"It really does make a difference and it is important to look after our beaches."
MCS Chief Executive, Samantha Fanshawe said: "Surveys show that beach litter levels are still unacceptably high.
"We hope the campaign will attract hundreds of helpers."
The MCS is a UK charity dedicated to protecting the seas, shores and wildlife.
More information about the clean up campaign is available online.