Bee Gees Isle of Man home celebrated with blue plaque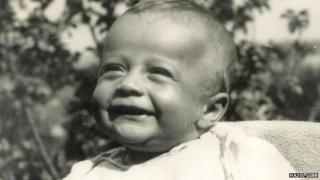 The Bee Gees childhood home in the Isle of Man has been celebrated with the installation of a blue plaque.
The plaque was unveiled at 50 St Catherine's Drive in Douglas by Robin Gibb's son, Robin-John.
The house was home to all three Gibb brothers before the family moved to Manchester in the 1950s.
Robin Gibb's wife, Dwina, who also attended the event, said: "It is very emotional to see the plaque - Robin brought me here many, many times."
She added: "He always wanted to show us different places on the Isle of Man, the place he had his first bee sting, the place he had his first ice cream and the place where he was born, that's why it has been so emotional."
Robin Gibb died of kidney failure in May, following a long battle with cancer.
The Gibb brothers were all born in the Isle of Man but later moved to Keppel Road in Chorlton before emigrating to Australia in 1958.
Manx folklore
The Bee Gees went on to become the fifth biggest-selling pop act of all time, producing 28 albums and shifting 110 million records in a career that spanned four decades.
Robin Gibb's son, Robin-John said: "The Isle of Man was a very special place for my father throughout his career - he loved the folklore of the island, he loved its strong sense of independence and he had a great affinity for the place, as do my mother and I."
Dwina Gibb continues to support the Isle of Man's Hospice, where she and Robin opened a children's wing, Rebecca House in 2008.
After Robin's death, the Gibb family asked well-wishers to donate to the hospice instead of sending flowers - a move which brought £14,000 to the charity.
Owners of 50 St Catherine's Drive, Kerry and Keith Moore said they did not know about the history of their home until after they had moved in.
Mr Moore added: "One of the lads at work told me it was the Bee Gees's old house and I couldn't believe it so I started looking up birth certificates and sure enough he was right.
"It's great to have the plaque up outside our home, this place must have meant an awful lot to Robin."
50 St Catherine's Drive is also the title of an album, recorded by the late Robin Gibb, due to be released later this year.
To mark the occasion, Isle of Man Post has issued a set of eight stamps celebrating the life of the singer song-writer.