Thousands raised for those affected by Syria conflict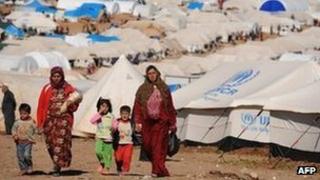 The Isle of Man has raised more than £2,000 to help people affected by the ongoing conflict in Syria.
Fund raising took place over Easter as part of an appeal by the Disasters Emergency Committee (DEC).
The organisation said more than five million people in the area needed urgent humanitarian aid.
The money will be used by charities based in Syria and neighbouring countries where more than one million refugees have fled.
The DEC is an umbrella group of 14 UK aid charities which come together to tackle crisis situations.
It includes the British Red Cross, Islamic Relief, Oxfam and Save the Children.
The fund raising in the Isle of Man was coordinated by the One World Centre.
Director Rosemary Clarke said "We would like to give our heartfelt thanks to all the volunteers who helped with the collection, and to everyone who has contributed.
"The situation in Syria is desperate for those who have been forced to flee their homes and we are glad to be able to help British aid agencies working so hard to improve conditions there."