TT sign theft could have 'catastrophic consequences'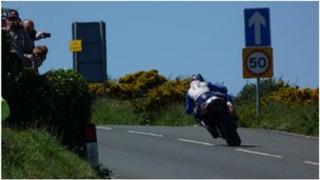 The consequences of stealing "prohibited area" signs from around the Isle of Man TT course could be "catastrophic," police have warned.
A number of signs, which are placed at hundreds of areas around the TT course deemed unsafe for spectators, have gone missing.
Insp Derek Flint said the removal of the signs could have "catastrophic consequences."
On some parts of the 37.75 mile course, racers exceed speeds of 200mph.
On Monday, Japanese rider Yoshinari Matsushita died in an accident at the Ballacrye section of the course.
Mr Flint said: "It highlights the importance of the signs. If spectators are in restricted areas they could be in danger."
Police are also concerned over damage caused to safety fencing on the course.
'Great souvenir'
Mr Flint said: "We have had reports of damage being caused to the crash-cell fencing.
"Things like the prohibited area signs might seem like a great souvenir, but if they don't get replaced and someone wanders into that zone, the consequences could be catastrophic.
"Likewise the safety cell fencing is crucial to keeping the racing as safe as it can be. Damage can compromise its effectiveness."
Police have asked for Isle of Man residents and TT tourists to "be vigilant with regards to damage and theft of items of TT furniture".
Anyone who witnesses signs being taken is asked to contact police headquarters in Douglas.
Police have also reinforced some key road safety messages as thousands of tourists arrive on the island for the races.
Mr Flint continued: "Unbelievably, we have had vehicles enter the one-way system on the Mountain Road against the traffic at the Creg-Ny-Baa.
"Fortunately this was without incident, but people need to make sure they aren't turning onto the one-way system at any of the entry points."