Katherine Crowe: Terminally ill singer's final concert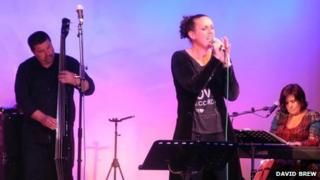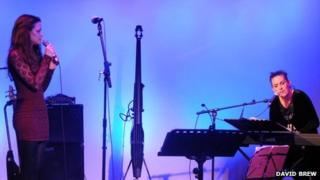 A singer with terminal breast cancer said she was "hanging up her boots" after her final public concert.
Isle of Man performer Katherine Crowe was first diagnosed with the disease seven years ago.
The married mother-of-two is reducing her professional commitments so she can concentrate on her family.
The singer, who said it has taken all her courage to do one last show, received a standing ovation after closing it with her single Smile.
'Unashamedly joyful'
The 38-year-old has stopped conventional drug treatments because her body reacts with anaphylactic shock.
Mrs Crowe said: "It has taken everything I have and more to try and set this show up. Bravery, courage and an awful lot of madness to boot."
Close friend and fellow musician Christy DeHaven, one of a number of performers who took to the Peel Centenary Centre stage with Mrs Crowe, said it was "a night to remember".
"The atmosphere throughout the night ranged from pin-drop quiet to unashamedly joyful.
"I feel incredibly privileged to have been a part of the night. Katherine is a very, very special lady; her positive attitude is completely inspiring."
She said: "Katherine has been living on borrowed time this past 12 months, battling a very rare, aggressive terminal cancer.
"Her music, her friends and her family and her incredible, positive attitude have kept her going this far."
In December she released her own version of Charlie Chaplin's Smile, accompanied by the London Metropolitan Symphony Orchestra, after recording it at Abbey Road Studios in London.
The singer from Onchan has been making music for more than 25 years and has performed in the Isle of Man and throughout the UK.