Isle of Man whale watchers spot first humpback since 2010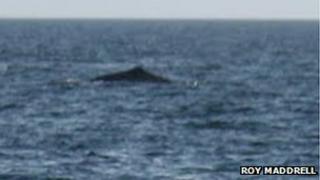 A rare sighting of a humpback whale has been recorded off the south-west coast of the Isle of Man.
Roy Maddrell's photograph was the first taken in Manx waters for three years. It was taken from the Pride of Mann vessel, about two miles off Castletown.
The mammal is more commonly seen off the west coast of Ireland and northern Scotland as it migrates from Iceland to the breeding waters of North Africa.
Manx Whale and Dolphin Watch's Tom Felce said it was "very rare."
The whale has a distinctive body shape, with unusually long pectoral fins and a knobbly head.
Mr Felce said: "It is not a great photo, but the stubby fin, which is around halfway along the back of the animal is a classic identification features of a humpback.
"The last sighting we had was in 2010, which again we could confirm by a photo, was taken around six miles off Peel, so they are a rare visitor to Manx waters.
Humpback whales typically migrate up to 25,000 km (16,000 miles) each year.
They feed only in summer, in polar waters, and migrate to tropical or subtropical waters to breed and give birth in the winter.
Any sightings should be reported on the Manx Whale and Dolphin Watch website.
In recent weeks the group have also recorded sightings of a Fin whale, six Minke whales and seven separate sightings of Risso's dolphins.