Isle of Man TT fan zone changes in safety review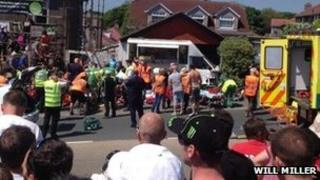 An Isle of Man TT safety review will focus on changes at a popular spectator zone, after several fans were seriously injured at the event last month.
The Senior race on 7 June was red-flagged after a competitor lost control on the fast downhill section of Bray Hill, less than a mile from the start.
Ten fans were taken to hospital - some with serious leg injuries - after bike debris scattered across the road.
Organisers said the safety review would focus on "making changes" to the area.
Three of the injured fans were initially treated on the island before being transferred to UK hospitals.
The rider involved, Barnsley's Jonathan Howarth, sustained a minor fracture and was released from hospital the following day.
A spokesman for the Auto Cycling Union (ACU) said it was "standard procedure".
"The positions of Fanzone seating areas all around the course will also be considered as part of the review," he continued.
"Major changes were made to spectator areas following a serious incident in 2007 when a rider and two spectators were killed at the 26th Milestone on the final lap of the Senior TT."