Isle of Man students win second award for 'growing clothes'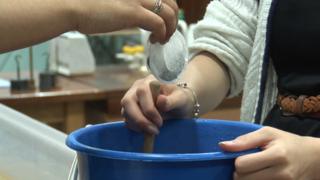 A group of Isle of Man students have won a major science competition for a project for which they "grew their own clothes".
The Queen Elizabeth II pupils won the North West heat of the National Science and Engineering Competition after presenting their innovative material.
The team will now represent the North West at the UK finals in 2014.
It is the group's second award in as many weeks after they won a category in the Observer Ethical Awards.
Their success saw Millie Barrow, Emma Howard, Annabell Jose and Grace Harrop awarded £6,000 a year to develop the project.
Their idea, inspired by reading a BBC news article by fashion designer Suzanne Lee, uses a green tea, sugar and bacteria.
Annabell Jose, 17, said: "We had an amazing experience at the Fair and were able to further spread our message that the problem of disposable fast fashion needs to be addressed".
The National Science and Engineering Competition aims to recognise and reward young people's achievements in all areas of Science, Technology, Engineering and Mathematics (STEM).
The girls will now showcase their project to over 60,000 people in the UK finals, held at the NEC Birmingham in March 2014.
Millie Barrow, 16, added: "It sounds strange to grow your own clothes but we hope the idea will gain enough publicity for people to think harder about the consequences of the clothes they buy."