Snow rescue package announced by Manx government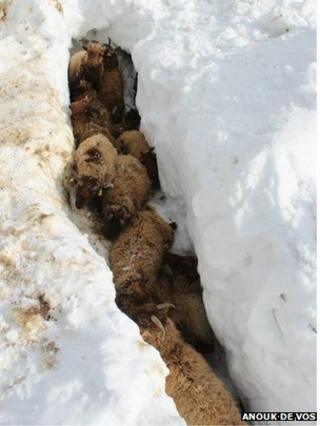 The Isle of Man government is to hand out £600,000 of aid to help farmers who suffered livestock losses during the severe weather of March.
The agriculture department said the funding which was given Tynwald approval in May, would be offered to those who qualify, next month.
Minister Phil Gawne said about 100 farmers could benefit from the money.
More than 16,000 cattle and sheep died as a result of the island's worst snowfall for 50 years.
The animals were buried in deep snow drifts which accumulated mainly on the west coast of the Isle of Man.
It is estimated that 12% of the national breeding flock, and 18% of this year's lamb crop was lost.
'Confidence boost'
"I have spoken with a significant number of farmers, seen first-hand the destruction in the wake of the snow, and I understand just how big an impact it has had on the industry," continued Mr Gawne.
"I strongly believe this package will give a much needed boost to the confidence and finances of our farmers, many of whom have been severely affected by the weather. Whereas farmers are accustomed to dealing with difficult weather and take it in their stride, the conditions endured at the end of March were exceptional."
About 90% of the Isle of Man is given over to agricultural production with about 450 farms, some with thousands of livestock.