Joey Dunlop TT champion tribute attracts hundreds of bikers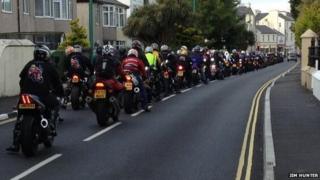 More than 400 bikers have taken part in a lap of the Isle of Man TT course in honour of the event's all-time leading winner Joey Dunlop.
The lap is held each year to mark the anniversary of the 26-time TT winner's death in Estonia, on 2 July 2000.
Mr Dunlop, 48, died at a race in Tallinn, weeks after completing a TT hat-trick.
This year organisers postponed the lap by 24-hours for safety reasons after rain and thick fog on Tuesday evening.
The riders were flagged off by BBC MotoGP commentator Steve Parrish
Dunlop, from Northern Ireland, won the TT Formula 1 Race six years in a row between 1983 and 1988 and was TT Formula 1 World Champion five times.
Kevin Quirk, of the Joey Dunlop Foundation, said: "It's a great way to pay our respect to the best road racer of all time.
"Hundreds came out to show their support for a true great."
The lap raised more than £4,000 for the foundation, which provides specialist accommodation to open up the Isle of Man to visitors with a disability.
Braddan Bridge House, located on the TT course, offers apartments for disabled guests and allows them to experience the beauty of the island and the excitement of the TT races.
The facility was formally opened on the 6 June 2010 by Joey's wife Linda accompanied by TT racer John McGuinness.
In a remarkable career, Dunlop won 26 TT races - six more than McGuinness, who won his 20th this year.
Dunlop's nephew Michael won four TT races at this year's event in June.