Buchan school evacuated over playing field gas leak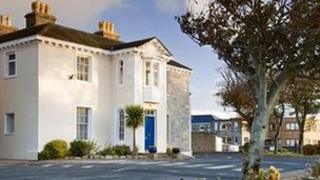 About 250 pupils and staff at the Buchan School in the Isle of Man have been evacuated after a gas leak.
The leak was detected at 09:30 BST on the school's playing field in Castletown.
A Manx Gas spokesman said a steel pin, used to put up a marquee on the grounds, had pierced a pipe.
Network director Robert Gardener said: "The flow had been stemmed and permanent repairs were under way and will be completed today."
The school's headmaster Martin Humphreys said the contractor reported the leak immediately and the situation will be investigated.
He said: "All children and staff were evacuated safely.
"As our leaving ceremony was scheduled for late morning we managed to hold it safely and in the sunshine before everyone left for the day."
As it was the last day of term for pupils they did not return to the school.
About 215 boys and girls aged 3-11 attend the junior school in the south of the island.
Anyone who smells gas in the area of the school is asked to report it to Manx Gas.