'Tired' Isle of Man promenade make-over approved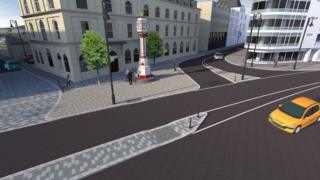 The first phase of a projected £17m project to regenerate Douglas's "tired and tatty" promenade has been given Tynwald approval.
The first phase, costing about £1.6m, involves road improvements between the Sea Terminal and Victoria Street.
The plans were given the green light in Tynwald on Tuesday evening.
Director of Highways, Richard Pearson said: "The last serious investment in the promenade was seen 80 years ago and it is looking very tired and tatty."
He added: "It is the main gateway to the island through which most visitors arrive. Most islanders also come here regularly - so it is an obvious choice for infrastructure investment."
In 2010, a public consultation received 452 written responses with the "overwhelming majority" supporting the regeneration of the promenade, according to Mr Pearson.
The government survey showed that nearly 60% of people who responded thought its appearance was sub-standard.
Work on the scheme is due to begin in August 2013.