Manx fishing community consulted over conservation laws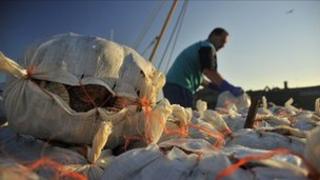 The Isle of Man's fishing community is being consulted about whether or not to extend a ban on dredging at a bay in the south of the island.
Baie ny Carrickey near Port St Mary was closed to scallop and queenie dredging in November last year.
The future of the ban is now being looked at as the temporary restrictions are due to end in November.
Fisheries minister Phil Gawne wants to hear from the Isle of Man's fishing community about extending the ban.
He said: "Management of an area by local fishermen is one option which we wish to explore and this needs to be trialled so that future fishery management decisions are based on robust evidence of successful outcomes.
"I look forward to hearing the views of fishermen and others on the proposals in the consultation."
Baie ny Carrickey was the sixth area around the island to have the ban. The others are Port Erin, Douglas, Laxey, Niarbyl and Ramsey Marine Nature Reserve.
Kelp forest
It currently protects 4.2 sq miles (11 sq km) of seabed, including kelp forests, rocky reef habitat and limestone ledges encrusted in marine life.
The site includes the seabed off Kallow Point, Perwick Bay and the Sugar Loaf.
More than 3% of the Manx seabed is now protected from trawling and dredging.
The public consultation on the future of the fishery is available on the government website.