New machine for Isle of Man 'to reduce infant deaths'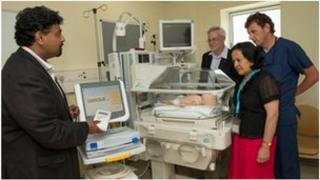 A new machine designed to reduce infant mortality has been donated to Noble's hospital by an Isle of Man charity.
The Henry Bloom Noble Healthcare Trust has provided a Tecotherm Neo, worth about £30,000, to the neonatal unit.
The equipment consists of a brain monitor and a mattress designed to bring down a child's temperature.
Paediatrician Dr Prakash Thiagarajan said: "Data indicates that of every eight infants treated, one death or severe disability will be prevented."
He added: "Every year two to three infants per 1,000 births get into difficulty during the birthing process, suffering asphyxia, when they are deprived of oxygen and or blood supply, resulting in damage to the brain.
"There is good evidence that cooling an infant who has sustained asphyxia helps minimise the secondary damage to the brain. This therapy is also supported by the National Institute for Clinical Excellence (NICE)."
The Henry Bloom Noble Healthcare Trust was established in 1888. One of the aims of the organisation is to provide equipment which the national health service is unable to fund.