Manx road reopens after filming involving Mark Cavendish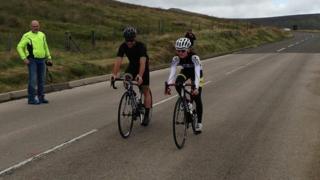 The Isle of Man's Mountain Road has reopened following a day of filming involving Manx cyclist Mark Cavendish.
The road was closed by the Department of Infrastructure from Ramsey to the Bungalow between 09:30 and 14:30 BST on Tuesday for the filming to take place.
Further filming will take place on Wednesday but the road will remain open to traffic.
An Infrastructure spokesman said there would be "occasional delays for motorists."
He added: "The film crew will be on the road from Signpost Corner to Creg ny Baa between 05:00 and 08:00, and from Brandywell junction to Ramsey from 11:00 to 16:00.
"The filming areas will be signed and traffic management will be in place."
Motorists have been asked to take extra care during these times.
The road was also closed on Sunday for emergency resurfacing work ahead of Saturday's opening practice session.
Serious concerns had been raised about the road in an inspection.