Manx teenagers become Lieutenant Governor cadets.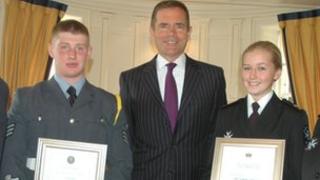 Two teenagers from the Isle of Man have been selected for official duties as cadets for the lieutenant governor.
Jeffrey Williams, 18, and Louise Coase, 17, will support His Excellency, Adam Wood at events and receptions throughout the coming year.
Two cadets are chosen every year, one from the St John Ambulance and another from the Manx cadet forces.
Candidates are nominated by their organisations and then selected by the governor following an interview.
Mr Wood said: "Jeffrey and Louise already play active roles in the local community and I look forward to working with them in the year ahead.
"The appointments will provide an opportunity for them both to meet the broad range of guests who attend functions at Government House."