Ramsey beach baby wipes clear-up prompts flush plea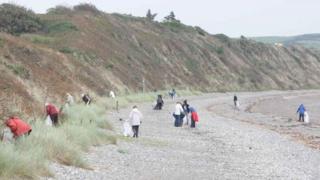 The discovery of thousands of baby wipes and sanitary towels on an Isle of Man beach has led to a warning by a local beach cleaning charity.
Beach Buddies' Bill Dale said group members found "huge amounts" of wipes, towels and plastic cotton buds during a clean-up near Ramsey over the weekend.
He said: "There is a simple message which is, don't flush such items down your toilet."
The group now plan to launch a campaign targeted at supermarkets.
Mr Dale said: "We will be contacting all the island's supermarkets to place messages alongside these products to advise everyone that the Isle of Man has a problem.
"We understand that Ramsey is one of a small number of places where the sewage system does not have filters to remove things, but even if the filters were in place it is clearly obvious that to remove them from sewage is costly, and completely avoidable."
More than 1,000 people have signed up to help the group with clean-ups around the island.