Mount Murray hotel occupants safely evacuated in fire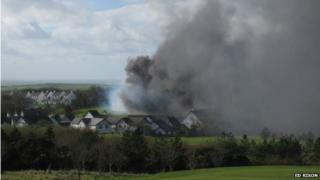 Hotel occupants have been safely evacuated from a "major" fire, the Isle of Man Fire and Rescue Service said.
Emergency services were called to the Mount Murray hotel in Santon at about 10:30 GMT.
A fire service spokesman said: "Staff and residents are all reported to have been evacuated safely"
Manx Radio reporter Tim Glover said there were "flames pouring out of the building" and that the fire "spread rapidly".
Chief fire officer Kevin Groom said when the emergency services arrived, a man was trapped on the roof.
"The incident was soon declared to be a major incident - it has been an extremely significant fire for us to deal with."
'Full investigation'
A witness living on the Mount Murray estate said: "It went up like an inferno, the whole of the roof was on fire within minutes.
"Everyone is a bit shocked because it happened so quickly - terrible to see, very frightening."
A spokesman from the island's health department said: "We can confirm that whilst the Ambulance Service and Noble's Hospital were placed on alert for a major incident due to the fire at the Mount Murray Hotel and Country Club, only one casualty with minor injuries has been taken to Accident and Emergency."
Hotel occupant, Paul Soper said he was in the swimming pool when the fire alarm went off.
"I just thought it was a false alarm- I looked outside and thought that it was really misty but suddenly I realised it wasn't mist, but smoke.
"I was evacuated out of the building in my swimming trunks but luckily I was able to borrow some clothes.
"The horror of it all was actually watching the speed at which the fire took hold on the building- thank God nobody was hurt."
Inspector Mark Britton from the Manx constabulary said all emergency services on the island pulled together to deal with the fire, including a fire engine from the airport.
He added: "We will be conducting a full investigation into the incident."
Brian Stowell, technical director of the hotel, said: "I can't say definitively how it started.
"Now everyone is safe, our priority will be to try and get the events part of the hotel opened again - we have weddings and other events booked."