Basking sharks: Reward offered for missing tag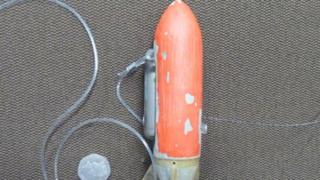 A reward of £50 is being offered for the return of basking shark tag, thought to have been washed up on the south coast of the Isle of Man.
The device, which is worth more than £1,000 to marine researchers, came off one of the sharks tagged last June.
Marine biologist Jackie Hall said the satellite tag could be refurbished and reused next year.
She added: "We put this tag on a shark we called Neve and since then we have been able to track her progress."
The satellite technology is called smart position or temperature (SPOT) tagging and is used by scientists to find out more about where basking sharks travel during the winter and to what depths they can swim.
It is hoped the programme will ultimately lead to increased levels of international protection for basking sharks.
"[Neve] spent a week feeding on the coast between Peel and Niarbly and then she popped up in the middle of the Irish Sea a few weeks later," continued Mrs Hall.
"Her tag is currently somewhere near Callow Point in Port St Mary - I guess it is on the beach but of course a dog or child could have found it and dropped it anywhere."
More information is available on the Manx Basking Shark website.