Market Hall could be 'creative hub for the whole island'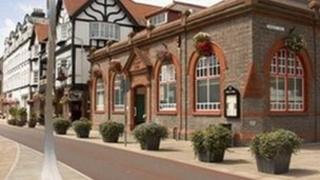 Plans are being unveiled for a project to turn the Market Hall in Douglas in to a "creative hub for the whole island".
The Isle of Man College and Douglas Borough Council have entered into a partnership to turn the building in to an educational facility.
If plans get the go-ahead it could serve as a base for the teaching of four art and design degree courses.
The college's Helen Fox said it could be a "hive of activity."
The Isle of Man College of Further and Higher Education began life as the Douglas School of Art in 1880, where Archibald Knox was one of the first pupils.
Ms Fox, the college's programme manager for art, design and media, said there was a "growing demand" from students wanting to study on island.
'Hive of activity'
"We are looking to expand our programme and add degree courses in digital media, fashion and contemporary crafts.
"We see the Market Hall as a space that would enable suitable workshop and exhibition space as well as providing links to local business.
"It could be a real hive of activity and a creative hub for the whole island and a legacy venue for next year's Year of Culture," she said.
The college already offers a degree in fine art.
The building currently houses a cafe, record shop and butchers.
Chris Pycroft, from Douglas Development Partnership said: "We want to develop a centre for creative activities, providing first-class facilities to include workshops and studios.
"We also want to see retail and exhibition spaces hosting community events and markets to stimulate the local environment and creative economy".