Isle of Man domestic abuse education 'essential'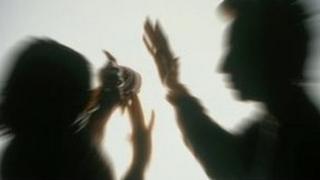 More education is needed to alert Isle of Man teenagers to the warning signs of domestic violence, according to the island's anti-abuse coordinator.
Jude Bradford, of the Isle of Man Constabulary, said the latest figures showed the problem was growing.
During 2012/2013 there were a total of 334 incidents reported to Manx police - a rise of 2.8% since 2009/2010.
Ms Bradford said: "We believe only one in 35 incidents are reported - so this is only the tip of the iceberg."
Manx police statistics show most cases of domestic abuse in 2012/2013 involved alcohol, 287 were against women and 47 against men.
Ms Bradford said: "The women's refuge is never empty and I believe early intervention is key - we need to get into schools to talk about the warning signs of abuse.
"Teenagers should know that if their boyfriend or girlfriend texts 20 times a day they are not being romantic, they are being controlling."
'Bad mother'
The Isle of Man's department of education said it is working to raise awareness about the issue.
A government spokesman said: "The department is also working with schools to ensure the personal, social and health curriculum enables pupils to develop strategies to ensure they are able to seek assistance if they find themselves in such situations."
But a former victim of domestic abuse from the island, referred to as Miss A, told the BBC at the age of 17 years old and she did not "have a clue" she was in an abusive relationship until it was too late.
"My boyfriend started doing things to disorientate me and make me question my own sanity, in the end, I thought everything was my fault.
"He hid my car keys so I could never find them, he even emptied the baby's milk down the sink so he could wake me in the middle of the night to accuse me of being a bad mother.
"I realise now that this is classic abusive behaviour but at the time I didn't. I certainly didn't know where I could get help - I just thought we were having a few problems and that if I married him everything would be OK, so that's what I did."
'Incredibly manipulative'
Over the next few years, said Miss A, the abuse escalated and became physical.
"He started to push me around and hit me, I was often covered in bruises, I called the police a few times but at the end of the day it was my word against his and they couldn't really do anything."
The Isle of Man government said there were various ways to get help including Victim Support and the police - in addition, a domestic abuse forum was launched last year.
But Ms Bradford believes tougher measures are needed.
"We will never know the top-ten list of abusers on the island because they are so good at what they do - they are incredibly manipulative. They may seem absolutely charming, the life and soul of the party - no one would ever believe what they are capable of behind closed doors - it's all about power and control."
A charity called 3S Safe Strong and Secure was recently launched on the Isle of Man.