Severe gales cancel Isle of Man ferry sailings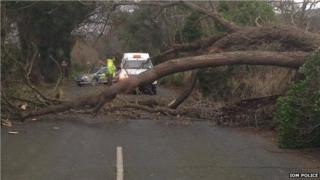 Gale force winds in the Irish Sea have led to the cancellation of ferries to and from the Isle of Man.
The Isle of Man Met Office has predicted the severe winds could reach up to gale force nine.
The Steam Packet Company's morning and afternoon sailings to and from Douglas have been cancelled due to winds of up to 70mph (104km/h).
A company spokesman said Thursday evening's sailing due to leave at 19:45 (GMT) is expected to depart on time.
Isle of Man police have warned that access to a number of roads around the island has been affected by falling trees.
Road officers in the west of the Isle of Man said: "Strong winds are causing disruption on the roads- we are asking drivers to watch out for debris and to leave extra time for journeys."