Sidecar death: Dedicated racer died doing what he loved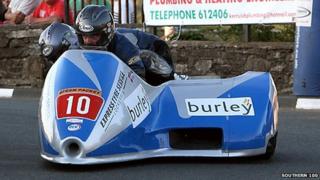 A TT racer died when he was "catapulted" from his sidecar during the final lap of a race at this year's Southern 100, an inquest heard.
Robert Thomas, 57, who lived in the Isle of Man but was born in Colchester, had been competing with Nick Houghton in the championship race on 11 July.
Coroner John Needham recorded a verdict of death by misadventure at Douglas courthouse.
The court heard the gardener from Ballasalla died from multiple injuries.
The father of one was described as a "dedicated racer" and a "hard-working member of the Southern 100 racing organisation".
'Previous winner '
Mr Houghton and Mr Thomas, a previous Southern 100 winner, had been in a race-long battle with a second sidecar driven by Darren Hope.
The court heard how Mr Hope and his passenger Paul Bumphrey had been slightly ahead before Mr Hope missed a gear change, giving Mr Houghton an opportunity to overtake.
The two crews had been side-by-side before coming together which pushed Mr Houghton's machine into the kerb.
Both sidecars then veered left and Mr Houghton's machine lost some contact with the ground seeing Mr Thomas pushed up against a hedge.
One marshal said he saw Mr Thomas "catapulted" from the sidecar before "tumbling down the road".
He added that both crews had been "jockeying for position" at the time.
Mr Houghton told the court he had been racing with Mr Thomas for eight years and had previously raced at the Isle of Man TT.
'Dedicated racer'
He said he had managed to keep the sidecar straight and did not collide with the hedge.
Following the collision he had not noticed that his passenger had "parted company" from the machine, he claimed.
Mr Bumphrey said as soon as he spotted Mr Thomas missing he started to point to let Mr Houghton know.
It is believed both crews were travelling around 90mph.
Mr Thomas was airlifted to hospital where he was pronounced dead.
Mr Needham praised the event's marshals and paramedics, who he said had done "everything possible" to resuscitate the racer. He also passed on his condolences to his family.
He was one of three men to lose their lives in separate incidents at this summer's event.