No verdict in trial of Isle of Man attorney general Stephen Harding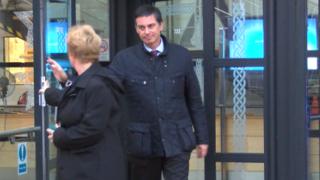 A jury in the trial of the Isle of Man's attorney general has been discharged after failing to reach verdicts on two charges.
Stephen Harding, 52, from Glen Vine, was accused of perjury and acts against public justice at Douglas Court House.
The jury of five men and two women was discharged by Deemster Birkett after failing to reach unanimous verdicts.
Mr Harding, who was suspended as the government's main legal adviser last year, was bailed.
The charges relate to a period between April and September 2010 when Mr Harding was a government advocate.
The jury had been deliberating for about 11 hours.
Deemster Peter Birkett said: "There is a clear message that we cannot take this trial any further. On the island there is no such thing as a majority verdict, there has to be unanimity.
"In a case as difficult as this please do not leave feeling you have not done your duty. This is not the first time it has happened, you must not feel you have failed.
"I am going to discharge you but I do so with the appreciation of the court."