'Ultimate mountain biking destination' plan announced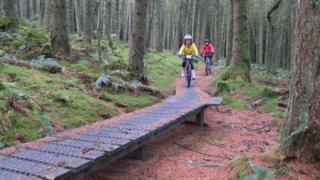 Four mountain bike trails have been developed as part of a government plan to market the Isle of Man as the "ultimate mountain biking destination".
The 10 miles (16km) of graded trails have been marked out by members of the Manx mountain bike club in plantations.
Member for tourism Laurence Skelly MHK said it was the "first stage of an all-island map which will link each of the plantations by roads and green lanes".
The idea has been developed by the Department of Economic Development.
Mr Skelly said his department was targeting individuals with an interest in outdoor and active sports.
"We are looking to promote the island to potential visitors as the ultimate mountain biking destination for beginners as well as a place that offers experienced mountain bikers challenging routes and sections," he said.
The routes run through four of the island's main forest plantations - Cringle, Corlea, Archallagan and South Barrule.
They incorporate a variety of terrain and have been graded for their difficulty with information boards to mark the routes.
David Gooberman, of the Manx Mountain Bike Club, said the initiative was a "great way of demystifying some of the island's best trail routes".