Storm damage leaves breakwater 'dangerously unstable'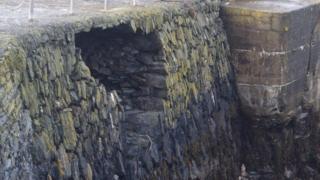 The Old Breakwater in Port Erin has been closed to the public after storm damage left it "dangerously unstable".
According to the Department of Infrastructure (DoI) a "cavity the size of a small car" has appeared following recent poor weather on the island.
A DoI spokeswoman said: "Part of the breakwater was carried away on the harbour side and a large amount of infill was washed away."
With further bad weather forecast the area has now been fenced off.
Department of Infrastructure engineers are currently investigating the damage.