Isle of Man's Noble's Hospital bed cuts 'unprecedented'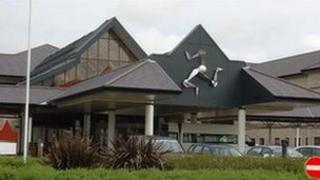 A decision to reduce the number of surgical beds available for patients at the Isle of Man's Noble's hospital is "unprecedented", health bosses say.
A health department spokesman said: "To ensure the number of beds available [for] acute emergencies is maintained, some short term changes are required".
The changes will see gynaecological ward beds used to care for medical patients.
Patients affected by the decision will be contacted by the hospital.
The spokesman said it was an "unprecedented decision" by Noble's Hospital management team in what has been an "extraordinarily busy period".
He said: "To ensure emergency admissions are managed effectively, and to provide safe care to patients, some surgical beds will be converted to medical beds for one week.
"This may mean reducing the elective non-urgent surgical admissions to hospital, whilst continuing to ensure that urgent surgical care and planned cancer surgery continues to be provided".
The changes will remain in place until the 27 January.