Isle of Man nurse wins Motor Neurone Disease award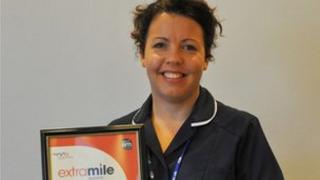 A nurse from Noble's hospital in the Isle of Man has won an award from a UK charity and research organisation.
Heidi Morris was recognised with the Extra Mile Award from the Motor Neurone Disease Association (MNDA).
The prize was created to "celebrate professionals who offer exceptional support" to neurology patients.
Ms Morris said: "The service is provided by a multi-disciplinary team and I am grateful for their hard work, compassion and support."
Motor Neurone Disease is a degeneration of motor nerves that leads to weakness and wasting in the arms and legs and difficulties with breathing, speech and swallowing.