Storm stranded Isle of Man seal pups returned to wild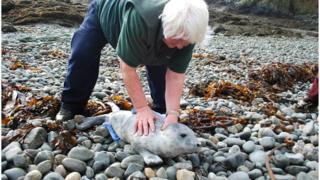 Two seal pups nursed back to health after they were stranded off the Isle of Man coast in stormy weather, have been released back into the wild.
The seals are among eight pups rescued by the Manx Society for the Prevention of Cruelty to Animals (MSPCA) in recent months.
Jenny Corran, of the MSPCA, said: "We've nursed them back to full health and they went off like bullets."
The centre plans to release three further pups in coming weeks.
'Healthy and fat'
The released pups, named Leprechaun and Thunderball, were found washed up at Fleshwick and Port Jack and both were released at Fleshwick in the south of the island.
Both were found severely underweight and alone.
Ms Corran said she was "delighted to see them back where they belong".
The MSPCA has rescued and returned more than 110 seals to the wild, since 2001.
Ms Corran said: "They arrive underweight and we help them to regain their strength on a diet of fish soup, vitamins and herring.
"We only release them when they are fit, healthy and fat."
Although grey seals are a familiar sight around the Isle of Man, they are one of the rarest seals in the world.
According to the Manx Wildlife Trust, about 40 pups are born in Manx waters each year.