Isle of Man's first locomotive for 87 years breaks down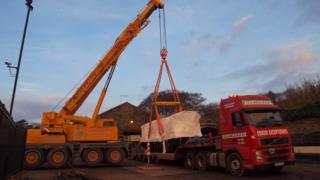 A £400,000 diesel locomotive, which is the first to arrive on the Isle of Man in 87 years, has broken down, the Manx government has confirmed.
The engine, which arrived from the USA in December, was bought to make the heritage railway "faster and safer".
According to Transport Minister Graham Cregeen, the engine "overheated" during commissioning tests.
He said: "Officers are currently trying to rectify the issue but the exact cause has not yet been established."
The 42-ton engine has a top speed of 29 mph compared to the current Viking diesel which can only reach eight.
Mr Cregeen said there would be "no cost to the Department."
"It is like when you buy a new car under warranty - so there is no added cost to us.
"We hope it will be fixed quickly and brought into service as soon as is possible," he added.
It is hoped the train will allow for a more efficient commuter service during the busy TT fortnight.
Once working, it will operate on the 15 miles of track between Douglas and Port Erin.