IoM beach cleaning group collect 1,900 bags of rubbish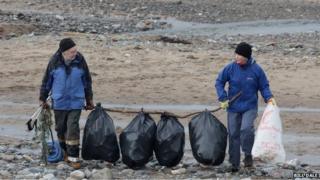 A Isle of Man beach cleaning group collected 1,900 bags of rubbish from the island's beaches last year, according to its annual report.
More than 1,600 volunteers took part in 220 sessions held across the island - a 75% increase on the organisation's first year in 2012.
Beach Buddies' Bill Dale said it was a "landmark year for Manx beaches."
He said: "The public spirit shown has transformed the effectiveness of beach cleaning on the island."
"Our volunteers have been the backbone to making a real difference to the Isle of Man's environment and the safety of seabirds, wildlife and marine animals, with the added bonus of giving the island exceptionally clean beaches for the benefit of everyone, including visitors".
The organisation also established improved links with businesses and schools in 2013.
Mr Dale said recent storms had presented a "real challenge."
He said: "The awful weather has led to unprecedented amounts of litter and plastic appearing last month - which could take three months to clear".
Beach Buddies has recently applied for charity status and is challenging its volunteers to make Manx beaches the cleanest in Europe.