Isle of Man law chief 'foolish not sinister'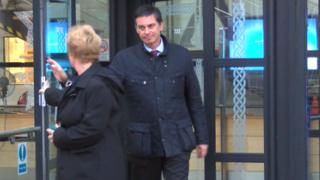 The Isle of Man's attorney general may have been "foolish, incompetent and unprofessional" but not "sinister or criminal", a court has been told.
Stephen Harding, 52, from Glen Vine, denies perjury and acts against public justice.
David Farrer QC told Douglas Court House Mr Harding may have made "serious errors" but he was "not a calculating perjurer".
He was suspended as the Manx government's legal adviser in 2012.
The charges date to a period between April and September 2010 when Mr Harding was a government advocate.
A jury of seven was told that in the August of that year, Mr Harding "lied under oath" at an Advocates Disciplinary Tribunal.
It upheld a complaint against Mr Harding brought by Jonathon Irving, a director of property development company Street Heritage Ltd that was liquidated while facing a tax bill of more than £180,000.
'Tiring day'
The tribunal found Mr Harding's professional misconduct to be an "isolated incident" and a few months later he was appointed attorney general.
But the prosecution said this may never had happened had the tribunal been aware that Mr Harding had lied under oath and then "submitted false documents to cover his tracks."
The trial centres around allegations that, on several occasions, Mr Harding amended telephone records (file notes) with the intention of deceiving the tribunal.
Prosecutor Peter Wright QC claimed Mr Harding submitted false documents to the tribunal and then lied "to cover his tracks".
But Mr Farrer said: "We live in a world where people make mistakes. Maybe, at the end of a tiring day, errors can take place.
"A mountain has been made of nothing.
"Mr Harding's actions may have been incompetent, over bureaucratic or excessively anxious, but the idea he was attempting to pull a fast one to get Street Heritage Limited wound up is just ridiculous.
"The credibility of the Irvings is shot to pieces, it is blindingly clear the company was overdue for winding up.
"It was insolvent, that is indisputable. It owed tax bills dating back for six to seven years."
During the retrial at Douglas Court House Mr Harding elected not to give evidence, something the prosecution criticised in court.
But the defence claimed the reason Mr Harding did not take to the stand was because he had nothing to add to the evidence already submitted in the form of police interviews.
The trial continues.