Isle of Man attorney general retrial jury discharged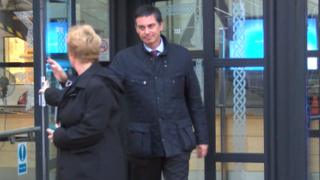 A jury in the retrial of the Isle of Man's attorney general has been discharged after failing to reach verdicts on two charges.
Stephen Harding, 52, from Glen Vine, was accused of perjury and acts against public justice.
The jury at Douglas Court House was discharged after failing to reach unanimous verdicts.
Mr Harding, who was suspended as the government's main legal adviser in 2012, was bailed.
The charges relate to a period between April and September 2010 when Mr Harding was a government advocate.
The jury had been deliberating since Thursday morning.
The trial, which began on 3 February, was repeated after a jury failed to come to a verdict last December.
Deemster Peter Birkett asked the jury if there was any possibility, given more time, that a verdict would be reached. The answer was no.
"In that case, can I thank you all for your jury service, I know it must have been a challenge, particularly in a case like this," Deemster Birkett said.
"You leave this building with our thanks and the thanks of the island."