Isle of Man adventure trail plan for felled larch trees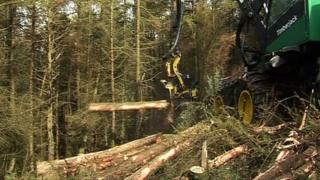 Thousands of diseased larch trees could be recycled as part of plans to create an Isle of Man forest adventure trail, the Manx Wildlife Trust (MWT) has said.
A spokesman said the trees, infected with Phytophthora ramorum, would be safe to use once the bark is removed.
Fifty per cent of Manx larch must be felled after an explosion of the disease in 2011.
Andree Dubbeldam, from the MWT, said: "Removing the bark means the trees are no longer able to spread the disease."
The trees to be felled cover 450 hectares (1,111 acres).
Mr Dubbeldam said: "It would be a shame for this wood to go to waste so we are planning to make some really exciting play equipment for the children's adventure trail."
The project, which could get started later this year, is part of the ongoing Ramsey Forest initiative which is run by the MWT.
It aims to create the island's first forest to help boost wildlife and the economic regeneration of Ramsey.
"It makes sense to have the forest project in the north of the island because it is currently the most wooded part of the island," said Mr Dubbeldam.
"It has about a 20% woodland cover, which is about three times the national average on the Isle of Man. If we are planting woodlands for conservation, it is actually better to plant next to an existing woodland."
The adventure trail, which is expected to cost in the region of £20,000, is planned for the Claughbane plantation which adjoins Elfin Glen, just outside Ramsey.
"We have some way to go getting planning permission, but if all goes well we are planning to put a bid in for lottery funding," said Mr Dubbeldam.
More information about the Ramsey Forest project is available online.