Art auction raises hundreds of pounds for Manx crime victims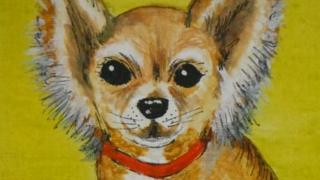 Artwork by six Manx personalities, including singer Samantha Barks, has been auctioned to raise money for victims of crime on the Isle of Man.
The fundraising project was launched by the UK Victims' Commissioner Baroness Helen Newlove and included her own painting.
The paintings were sold on an online auction site and raised about £500 for Victim Support Isle of Man.
Les Mis star Samantha Barks painted her pet Chihuahua Lily for the campaign.
Baroness Newlove, from Warrington, has campaigned against violence since her husband Garry was attacked and killed by youths outside their home in 2007.
She was appointed the UK Victims' Commissioner in December 2012 and said she closely follows the work of Victim Support in the Isle of Man.
"The Isle of Man will always have a special place in my heart as my husband and I used to holiday here," she said.
"It's been my pleasure to work closely with Victim Support (IOM) and see the outstanding work they are doing to support victims and vulnerable community members."
The charity offers free and confidential help to victims and witnesses of crime, their family and friends.