Partially blind harpist, 21, 'excited' by debut single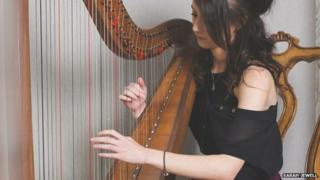 A partially blind harpist from the Isle of Man has said she is "extremely excited" to release her debut single.
Erika Kelly was diagnosed with a genetic eye disease aged 14, which has left her almost blind in her right eye.
She began posting music videos of her playing her harp on YouTube in 2011 and more than 500,000 people have now viewed her songs.
"I started posting them as a bit of fun and it has gone crazy," the A-level student said.
The young harpist currently has more than 4,000 followers on her YouTube channel and has been championed by the likes of Gabriella Aplin and Two Door Cinema Club.
She said: "I have attained a beautiful fan-base, who are the loveliest, most encouraging people.
"They make me feel consistently determined to achieve."
'Completely unique'
The 21-year-old has undergone corneal eye transplant surgery and refractive surgery in recent years but so far both have been unsuccessful.
"The surgery has set me back a bit with my studies but it doesn't affect the way I play my harp."
She first became interested in music at school, singing in the ancient Manx Gaelic language and playing traditional Celtic music in folk groups.
She later began putting her own spin on pop songs by the likes of Lady Gaga and Ed Sheeran, earning her an ever growing fan base.
"People don't see the harp as a young person's instrument but I want to change that perception," she said.
"It is such a unique sound and whilst my routes are in traditional Celtic music - my own sound it very different and I am so excited to release my first song."
Her debut single "Better I Try" was released on Tuesday.
Culture Vannin's Manx music specialist Chloe Woolley said she is a "wonderful talent and largely self-taught".
She said: "She is completely unique and her Celtic routes have given her an individual style."
An accompanying video was filmed at the island's Gaiety Theatre in Douglas.
The project was funded by the Isle of Man Arts Council, the Malcolm-Scott Dickinson Trust and Culture Vannin.