Sixty Manx athletes to receive Sport Aid scholarships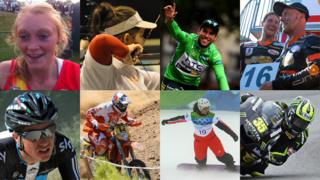 Sixty athletes have been chosen for the Isle of Man Sport Aid's (IOMSA) 2014-15 scholarship programme, the charity has confirmed.
Each scholarship provides a combination of financial support towards travel and equipment plus access to services at the Isle of Man Sport Institute.
IOMSA chairwoman Sarah Corlett said those with the "attributes to succeed in the long-term" were chosen.
Isle of Man cycling's regional school of racing will also receive support.
'Outstanding accomplishment'
All athletes were nominated by their sport's governing body before facing a "rigorous selection process" by the IOMSA committee.
Mrs Corlett said Sport Aid wanted athletes who would "continue to put the island on the sporting map".
She said: "We have a remarkable number of athletes in an ever-increasing range of sports achieving outstandingly high levels of accomplishment".
Amongst those who sponsor athletes are the Manx cyclist Mark Cavendish and millionaire businessman Albert Gubay.
Isle of Man Sport Aid has played an important role in the development of most of the island's sports stars in the past 20 years.
Recipients have gone on to win gold medals at Olympic, World and Commonwealth Games.
Isle of Man Sport Aid is a registered charity and partners include a number of local businesses and individuals as well as the Manx government.
All sixty scholarships will be awarded at the Isle of Man Sports awards at the Villa Marina on 10 April.