Snow hit Manx famers 'still recovering' after 12 months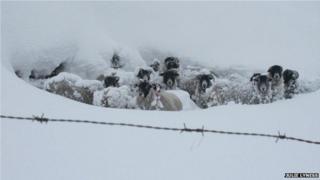 Farmers are "still counting the cost of their losses" 12 months since the worst snow in 50 years hit the Isle of Man, a Manx farmer has said.
According to the National Farmers Union more than 16,400 animals died in the heaviest recorded snowfall in the island since 1963.
Farmer Graham Crowe said: "Many will never recover fully from the loss of generations of breeding stock."
The loss was amplified by the fact it was the lambing and calving season.
Mr Crowe helped to set up a trust which has raised £160,000 for farmers.
He said: "It has been a terrific community effort with individuals and businesses helping to raise money which has been distributed to those in need."
The money has been used to help with the cost of new stock and feed.
When the snow hit, hundreds of people helped farmers to dig out their animals.
Mr Crowe, who farms in East Baldwin, said the support provided a "tremendous boost".
"The farming community was incredibly humbled to know that people would give their time to help in an hour of need. Some may never fully recover and for others it may take years."
Belinda Leach, of the Manx Farmers Union, said the help from the community encouraged many famers to carry on.
She said: "Whilst it's not a quantifiable measure, the community support provided a massive morale boost and has remained so since then.
"What came through so strongly was the normal people of the Isle of Man who showed their support in so many ways."
Following the snow, the Isle of Man government handed out £600,000 of aid to help about 100 help farmers, some of whom turned down the help.
Agriculture minister Phil Gawne said many farmers suffered "catastrophic losses".
"It was about as bad it could get and came off the back of a very wet 12 months," he said.
"The resilience of the farmers and the support from the island community was remarkable but it could take years for some farmers to recover."
Hill farmer Danny Creer lost more than 400 sheep and said the knock-on effect has been "massive".
About 90% of the Isle of Man is given over to agricultural production with about 450 farms, some with thousands of livestock.
The National Farmers Union estimate that 12% of the national breeding flock and 18% of this year's lamb crop was lost.